Previously reserved for those with large design budgets, pavers have become more available as paver costs have dropped. Because of this, more people are installing the patio, brick walkway, or paver sidewalk they have always imagined.
A Brick Paver Patio can offer multiple advantages over a traditional patio or wood deck…the patio does not have to follow the slope of the landscape, it can be constructed in almost any shape and can be placed almost anywhere in the yard. Because a raised paver patio can incorporate multiple levels, you have the option to add other outdoor rooms, too.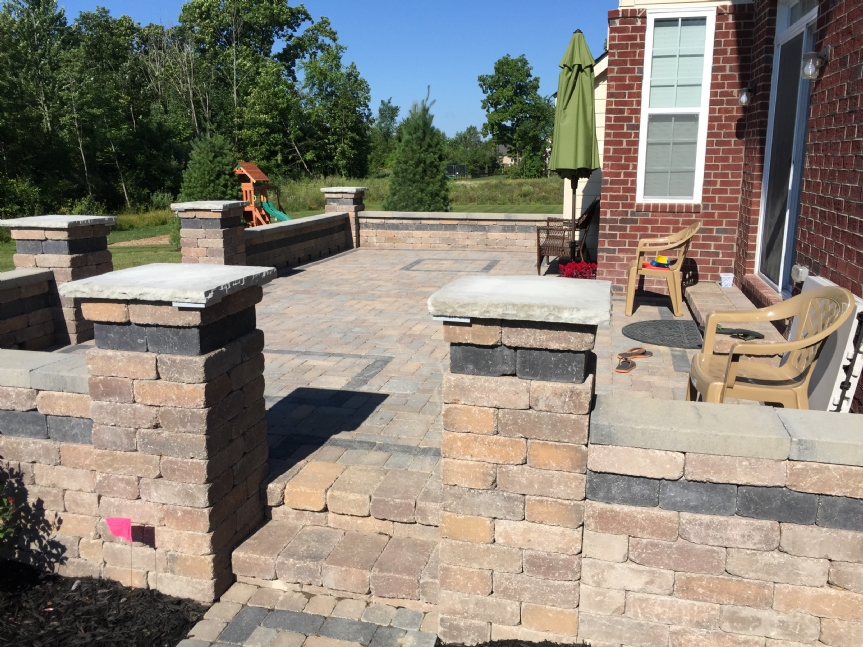 Raised Patios for Tricky Terrain
One of the main advantages of a raised patio is that it can begin flush with your house, and extend into the yard for your preferred size, but is not hindered by the terrain of your yard.  So, if your landscape is gently sloped or steep, the area for entertaining is not compromised.
Stunning Steps
Adding steps to a raised patio can say "Welcome…come on up!"  Steps can be bordered by extended stone planters for annual flowers and native grasses, while lanterns that top pillars can increase both safety and ambiance.
Outdoor Kitchen with a View
Consider a brick paver outdoor grill area to make dining outside more convenient.  Or, an outdoor kitchen could bring all of the cooking convenience to your patio.
Permanent Seating
A partial Brick Paver low wall can not only add safety to the higher portion of a raised patio, but it enlarges the seating area for guests.  As a convenient spot to put drinks and food, or for additional seating, an enclosing wall may also bring more privacy to your patio.  The wall adds interest as a change of elevation and visual separation from the lawn.
Paver Patios Last
With a Brick Paver Patio for your MI home, you won't have to worry about destruction from insects as with wood decks.  There is no painting, staining, or wood to replace from weather damage; and as we know, Michigan winters can be quite harsh. You won't have to contend with weeds growing through the patio cracks either. A raised patio can withstand the elements and provide years of relaxation and entertaining.
Among the many advantages of patio pavers is its ability to expand and contract in response to weather changes. While concrete sidewalks have a tendency to crack in winter, a brick walkway or paver sidewalk responds to environmental changes, thus diminishing the need for repairs.
With its affordability and long-lasting value, now is the time to make your dream flagstone patio or brick walkway a reality. In the hands of a Lightning Lawn & Landscape, brick pavers can transform any drab landscape into the envy of the neighborhood.
If you are looking for an 
Estimate
 on a Paver Patio in South Lyon, New Hudson, Howell, Brighton, Milford or Ann Arbor, Let our professionals help you build the Patio of your dreams.